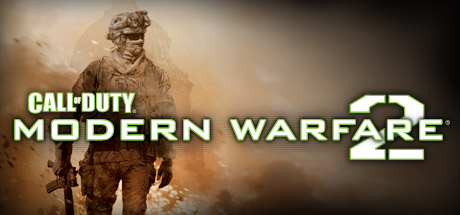 Shooter 100%
FPS 97%
Online Co-Op 96%
First-Person 94%
Atmospheric 93%
Adventure 92%
War 92%
Call of Duty: Modern Warfare 2
The most-anticipated game of the year and the sequel to the best-selling first-person action game of all time, Modern Warfare 2 continues the gripping and heart-racing action as players face off against a new threat dedicated to bringing the world to the brink of collapse.
Developer: Infinity Ward, Publisher: Activision, Game website
Windows | Mac | Steam Achievements
Sytem requirements
OS: Microsoft Windows XP or Windows Vista (Windows 95/98/ME/2000 are unsupported)

Processor: Intel Pentium 4 3.2 GHz or AMD Athlon 64 3200+ processor or better supported

Memory: 1 GB RAM

Graphics: 256 MB NVIDIA GeForce 6600GT or better or ATI Radeon 1600XT or better

DirectX®: Microsoft DirectX(R) 9.0c

Hard Drive: 12GB of free hard drive space

Sound: 100% DirectX 9.0c compatible sound card

Internet: Broadband connection and service required for Multiplayer Connectivity. Internet Connection required for activation.

Co-op/Multiplayer Hosting: To host Co-op or MP matches, a 2Ghz dual-core or better processor is recommended.