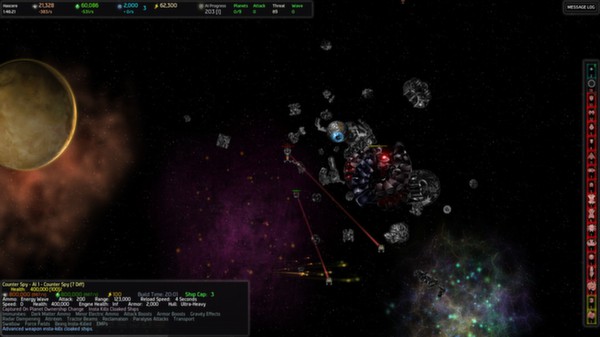 Strategy
RTS
Space
Indie
Sci-fi
AI War: Fleet Command
"You are outgunned. You are massively outnumbered. You must win." These are your orders. Humanity has already fought its war against the machines -- and lost. AI death squads stand watch over every planet and every wormhole, the few remaining human settlements are held captive in orbiting bubbles, and the AIs have turned their...
Developer: Arcen Games, LLC, Publisher: Arcen Games, LLC, Game website
Windows | Mac | Linux | Steam Achievements | Steam Trading Cards
Sytem requirements
OS: Windows XP SP2 or later

Processor: 1.6Ghz CPU (2.4 Ghz recommended, Dual Core strongly recommended for Host)

Memory: 2 GB RAM

Graphics: Graphics card must support 1024x1024 textures (most 32MB and up graphics cards do), 1024x768 or greater (32 bit color recommended)

Hard Drive: 300MB

Multiplayer: Broadband Internet Connection or LAN required for multiplayer.